24/7 ACCESS TO QUALITY HEALTHCARE
within minutes when you NEED it most
using your computer, tablet or phone
and no co-pays or deductibles
Watch Our Video for Everything You Need to Know.
YOU WILL LOVE THE PROGRAM!
See what these members had to say...
Addie H. says:
"My mom called The Doctor on call and within 30 minutes a doctor had a consultation over the phone and a prescription was called in for us to pick up first thing the next morning. I was so glad I didn't have to go to the doctor's office. It was so easy!"
Corrina V. says:
"...new job and didn't have time to leave the office for an appointment with my doctor. I called The Doctor on call and a nurse immediately reviewed my symptoms. Within an hour, a licensed physician called me back to confirm and sent a prescription directly to my pharmacy. I picked it up on my way home. It was easy and didn't have to pay for an office visit!"
Tammy G. says:
"...when I tried to make an appt with my regular doctor, she couldn't see me for a week! Then I remembered The Doctor on call. I went online to set up my account then just called the number on my card. It was answered immediately. They did triage on my condition and verified my info. A doctor called me back in 30 minutes! We chatted and then called my prescription in. It was ready an hour later! I didn't have to leave work to do anything or even make a co-pay. I'm sold!"
Gene L. says:
"My primary care doc was going to be another two days and I certainly wasn't going to the ER. I felt miserable, so I called The Doctor on call. After a few minutes of talking to the nice young lady, she told me a doctor would calling me back. Within 30 minutes I received a call from a doctor in my state who reviewed my infor, asked a few questions, and then prescribed an antibiotic that he sent to my local pharmacy. Very convenient money saver that goes with me wherever I go."
Richard M. says:
"I came down with something right before a holiday weekend. By Monday I knew I needed antibiotics. I scheduled my diagnostic appointment and got a call in just over and hour from a from Dr. Garcia. I was prescribed an antibiotic that she called in to my pharmacy and was taking my first dose in the parking lot about an hour and a half later. Quick, no waiting rooms and only co-pay was for the prescription!"
DIAL UP YOUR PEACE OF MIND
Convenient and professional health assistance for consultations, diagnoses and prescriptions anytime, anywhere. Your entire household is included and everyone is accepted.**
JOIN TODAY FOR EXCELLENT CARE, COMFORT AND NO COPAYS.
A COMPLETE SET OF SERVICES FOR YOUR FAMILY'S WELL-BEING.
A COMFORTING SOLUTION TO TODAY'S HEALTHCARE STRESSES.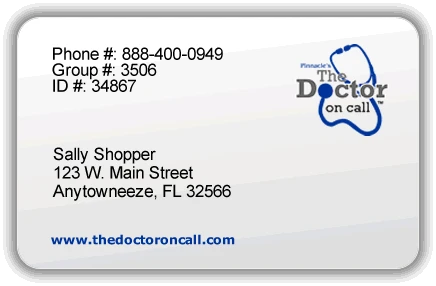 Member Benefits
Quick and easy access to physicians online or phone within 90 minutes.

A "Where it Hurts" feature to pinpoint locations of aches and pains.

40+ lifestyle, behavioral health and disease-specific assessments.

Professional toll-free medical advice available 24/7 for non-emergencies.

Health Information Library including over 1,000 health-related topics.
Services are not available in Iowa, Minnesota, Wisconsin, Maine, Vermont and Utah.